What is Affiliate Marketing and How Does it Work?
Affiliate marketing is one of the safest and fastest ways to make money online. Most likely because you are not buying or selling nothing
You  promote products and/or services online and receive a commission. After reading these three simple steps in this post. You will have a better understanding of how affiliate marketing works.
Choose your niche

Create your very own website

Generate FREE traffic that converts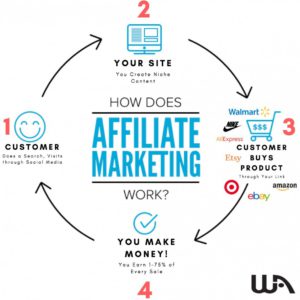 A Niche is Just a "Targeted Audience"
A niche is a distinct segment of a market, so basically an "audience".
You Have The Largest audience in The World!
You have the largest audience in the world. Ever!  The internet, everyday Google alone gets over 3.5 BILLION clicks.
When choosing your niche think of something that excites you, a hobby, or a passion. This is so important because practically ANY niche can be successful and easily turn into a fulltime income.
Affiliate programs are everywhere and majority of them are free to join. There are literally thousands of affiliate program within almost every niche that you can think of. Focus on one niche at a time  Be careful not to join to many affiliate programs. You don't want to overwhelm yourself and risk quitting. Focus on one niche at a time.
Once you sign up with a companies affiliate program you will get a link with a tracking code that is unique to you. Drive traffic to that link and when a purchase is made through that link you will receive a commission.
Your main focus with affiliate marketing should be to help your audience rather than "selling" to them. Having some knowledge or a interest within your niche will make it a lot easier for you to help your audience by.
Researching products and services to promote within your niche
Communicating within your niche
Writing content within your niche
You don't have to worry about being a expert within your niche. You will become one. Through TIME and through HELPING people you will build trust and credibility. THEN and only THEN will the "money" part come-through helping people.
Its just a matter of you connecting with your audience. Connect with your audience by narrowing down your niche category (your audience). Here's a few examples how you narrow down your niche category.
Here are 5 niches within the clothing category:
Men's swimwear
Women's bathing suits
Outdoor wear
Plus size clothing
consignment/used clothing
Here are 5 niches within the vehicle electronics category:
Keyless Entry
Car stereos
Phone chargers
Car Alarms
DVD Players
selflessmoney.com is within the "Make Money Online Training" niche category.
Affiliate marketing is just like any other business. You have to educate yourself. Education is the fundamentals and is imperative for your success.
Here are 5 categories within the Make Money Online Training category:
Email Marketing
PPC (pay per click) Marketing
Social media marketing
Video Marketing
Local Marketing
As you can see there are plenty of ways to make money with affiliate marketing.  These are just a few examples of niche categories that can be narrowed down even more. This is why with some help and the proper training you will have a better chance of being successful with affiliate marketing.
So whats your niche???  Join the discussion forum. Get help, feedback, or just refine your niche right here!
*note* this is the exact same training that I use(100% free to you). Scroll to the bottom of  the training to join the discussion forum. It will look like this inside.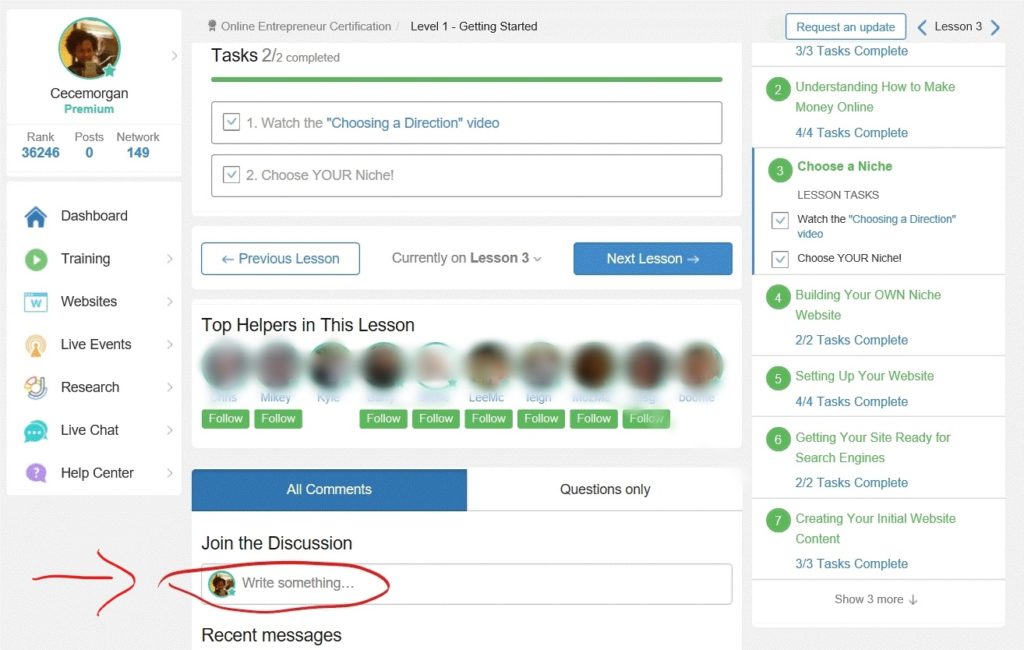 Once inside you will be prompt to start your free memberships. Fill in your email, name, username, password and that's it! Never any financial information needed as a free member (stay free as long as you like).
Now that you have your niche figured out. You can start building your foundation, your website.
Anybody Can Create A Website In Seconds…
Your website is where you have complete control over everything. Your content, images, comments, and security is a must. Your website is your space in the internet world.
I am so serious, today technology is so advance that with just a few clicks anybody can create a website
This is what it looks like inside my Siterubix website builder.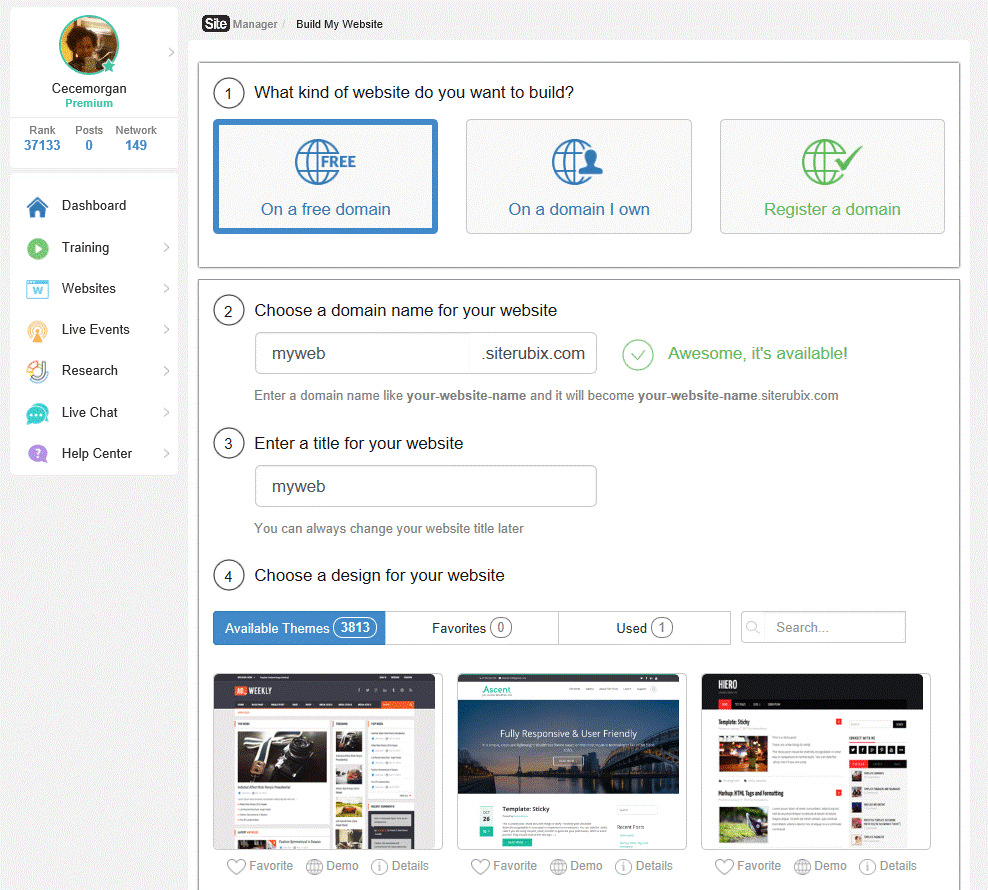 Choose rather you want a free domain, a domain you own, or transfer an existing domain.
Choose a domain name for your website.
Enter a title for your website- your title can be the same as your domain name- you can always change your title later
Choose a design for your website – there are  themes available to select from                                                                                                                                                      Then there will be a big green button to click to build your website. Within seconds you will have a fully functional LIVE website up and running.
The owners of my training platform, Kyle and Carson are highly active within the community. Click here to watch a video Kyle created. How to create a website in under 30 secs.
No Traffic = No Sales Period!!!…
You are going to target your audience by using what is known as "keywords".  Matter of fact, keywords is what brought you to this post. Keywords are how you will generate traffic
What's a Keyword…
A keyword is just a word or a phrase that people search for in search  engines
Anything that you type into Google, or any other search engine is called a "keyword."
Keywords is what's going to bring relevant viewers to your website. Keywords are the starting point and the core to your success. From here on out, when you write content for your post. Each post that you create will target a  specific keyword or keyword phrase.
100 targeted keywords = 100+ search engine rankings
With Time and Consistency you will be ranked (seen) in search engines, like Google. This can lead to a massive amount of FREE traffic.
Here is a screen shot of my Jaxxy quick search keyword tool. I'll give you a quick walk through and go over the "Rules" of how to use keyword terms-these rules are pretty simple though. I'll use the exact same keyword I used for this post.
"What is affiliate marketing and how does it work?"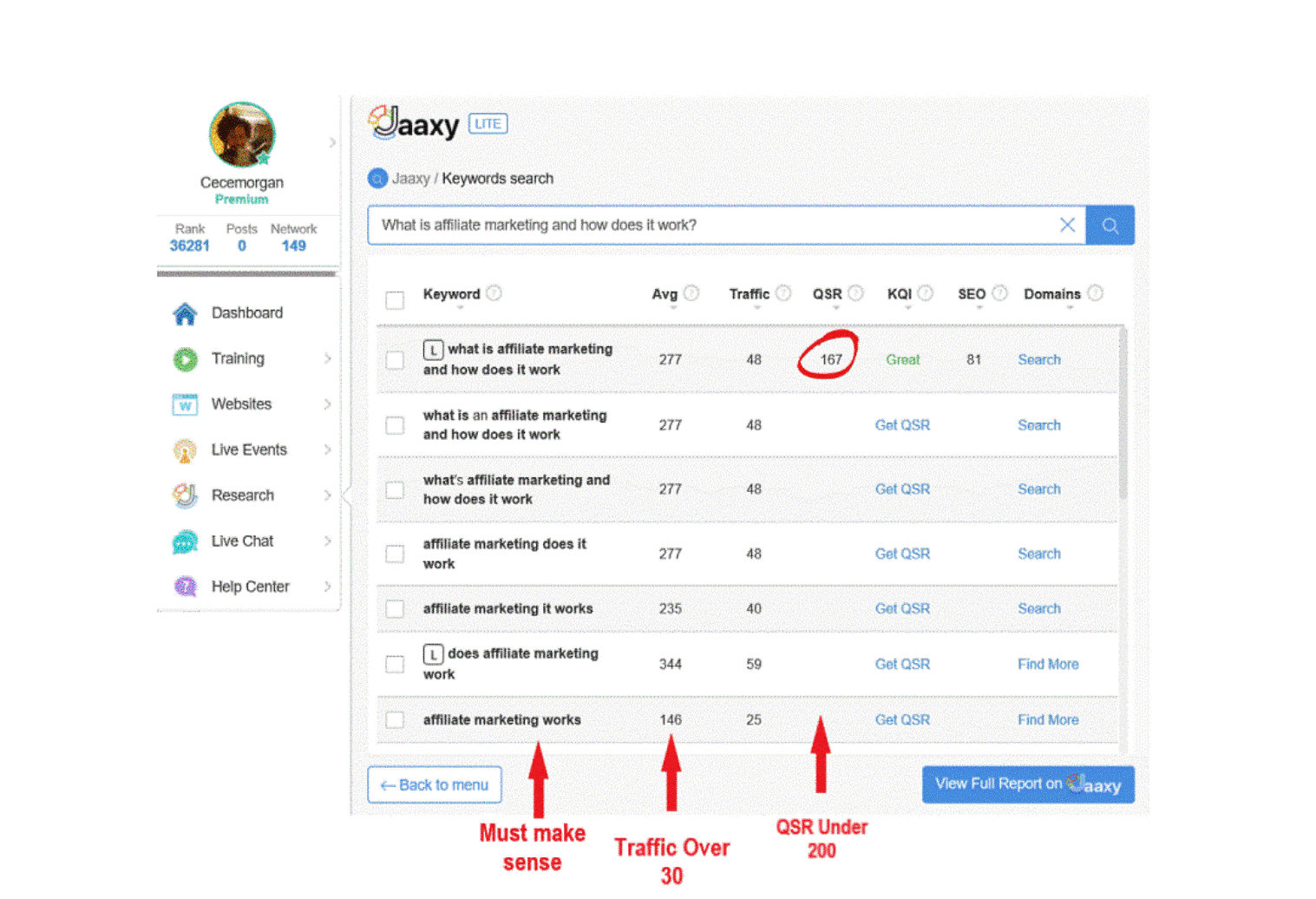 Keyword- This the search phrase that the data to the right represents.
Avg-This is the overall monthly traffic that this search term gets, globally.
Traffic-  This is the overall monthly traffic you will get if you rank on the first page of google on this term.
QSR- Quoted Search Results, this is the  number of results in Google that you are competing with. This is your competition.
Seo- This is a score based on traffic and competition. the higher the score the more likely you will rank for this keyword on the first page the higher the better on a scale of 1-100.
KQI- Keyword Quality Indicator  Green is great, Yellow is OK, Red is poor.
Domains-these are the domain names available
Look in the bottom right hand corner at the big blue button. Right here I can view the full keyword report in Jaxxy.
Here you can track rankings, create and manage keyword list, analyze your competition, search and find relevant affiliate programs in your niche. Jaxxy is the most advance keyword tool in this industry! 
Keyword "Rules"
Rule #1: AVG- This is the amount of traffic that this keyword gets monthly you want to receive more than 30 searches. The keyword search term needs to get some traffic. I like to shoot for at least 5o searches.
Rule #2: QSR- Quoted Search Results This is the number of competing websites in google. This is your competition. Keep this column below 200. If you can get a QSR of 100 or less that's even better.
Rule #3: It is vital that your keyword make sense. Keep in mind that you are writing for your viewers first and the search engines second. Your keyword or phrase needs to flow within your content.
Place your keyword in the title of your post. Use that same keyword and place it in the first paragraph, preferably the first sentence. Then just write natural through out the rest of your post. 
A Task For You
Use that exact same process with the Jaxxy keyword tool below and find 5 keyword terms related to your niche.
Already you have started the process of building your very own website. you have 5 targeted keywords that are ready for 5 different post. You online business is now up and running
I hope you have a better grasp of what affiliate marketing is and how it works by
I would  love to know how things worked out for you. Let me know below in the comment section.
Wishing  you great success
Sierra
selflessmoney.com