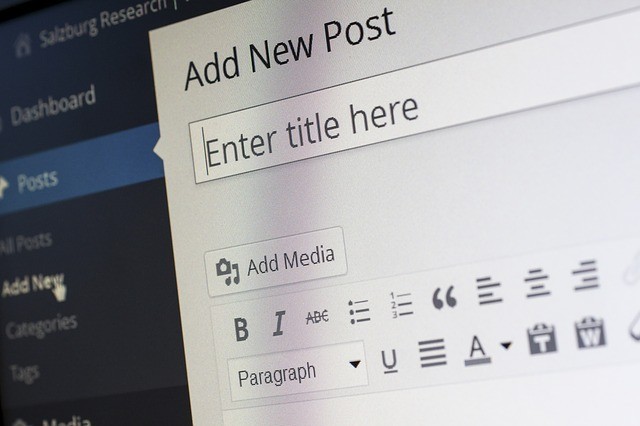 Website building is nothing like it was back in the day. We can now do without all that coding and "stuff". With Content Management Systems(CMS) like WordPress, we can now edit our content without any coding.
WordPress is the most widely used CMS platform and is free to use to anyone. However, WordPress does require some setting up.That's why when you start your FREE Wealthy Affiliate membership, you can take advantage of WordPress Express. A Virtual one click installer EXCLUSIVE to Wealthy Affiliate.
In this post I will be sharing with you why Wealthy Affiliate's All In One Website Suite is more than just the best free website builder.
All Inclusive Website Builder
Many people register a domain, pay for hosting, then install WordPress. This task is integrated with SiteRubix Wealthy Affiliate's ALL INCLUSIVE website builder
In addition to, free hosting and domain register your free membership will include but definitely not limited to:
Not 1 but 2free websites

12 handpicked themes to choose from

Site Content-State of the Art Writing Platform

Layers of Security
Here take a look inside my membership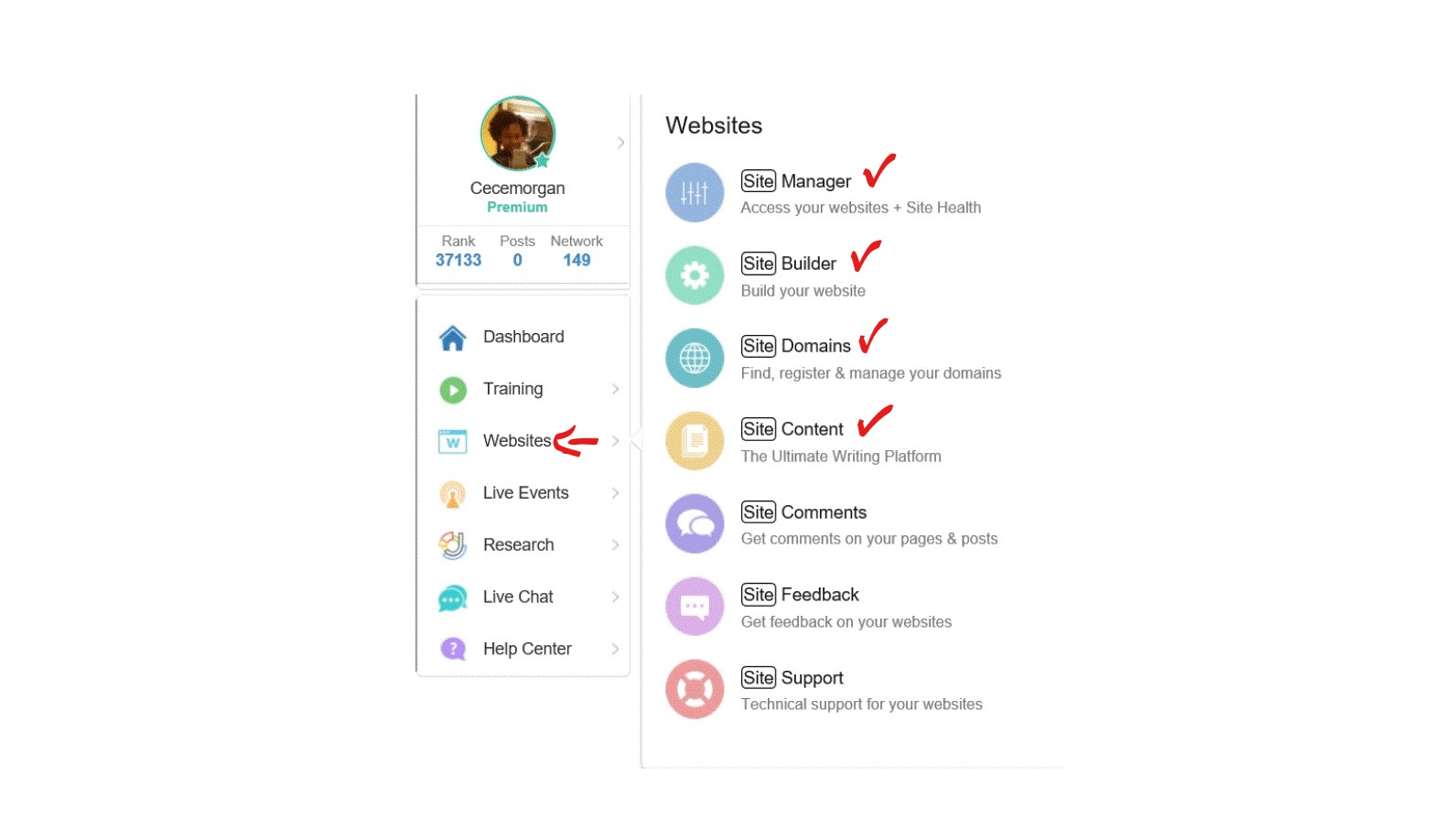 You just click the website tab then select your desired task in the drop down. I am a premium member so my membership looks a bit different than the free membership. All that's included in your free membership is checked marked in RED.
Now Lets start off in the website builder and build this baby in 4steps!
Website Building at it's Finest
Website building at its finest in just 4 steps!
STEP#1: Choose rather you want a free domain, a domain you own or if you want to transfer and existing domain. I used a free domain to show you in this example.

A free domain you don't own, Wealthy Affiliate does.  A free domain is  ideal if  you are a newbie or just want to "test the water". As your website begins to generate some income. You can always transfer your free domain to a domain that you own.
A paid domain is a domain that you own. This is your piece of web. Something like online real estate. For a one time yearly payment of $10-$12 a year you will be the owner of your domain. I pay 11.99 a year for selflessmoney.com
Transfer an existing domain with a simple click of a button.
STEP#2: Choose a domain name for your website. Your domain name will become the name of your website. On a free domain your website name will look like this  yourwebsitename.siterubix.com.  On a paid domain your website name will look like this yourwebsitename.com.

STEP#3: Choose a title for your website. The title of your website can be your domain name. You can always change your website title later.

STEP#4: Choose a theme for your website. You have 12 hand picked designs to choose from. Over 3,000 themes to select from as a premium member.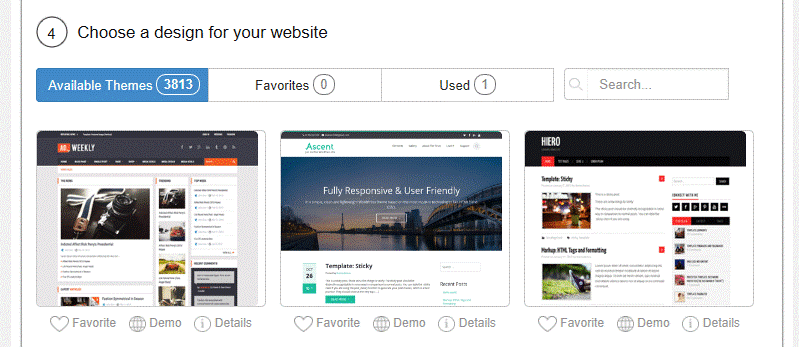 Then just hit that Big green button and just like that. Your website is up and rolling ready for content.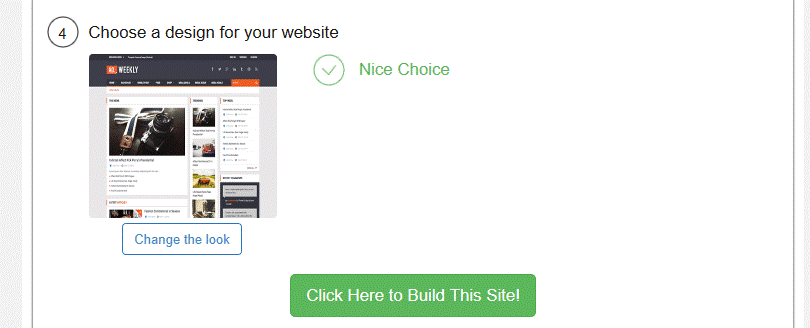 They Say… Content is King
They say content is king. Well, at least inside the SiteRubix Content platform content is King. Keep in mind that content is what makes the internet. Without content the internet wouldn't even exist. Content is King. Manage and edit your content on this State of the Art writing platform.
Keep track of your writing stats

Set Word Count and Article publishing goals

Ready to use Templates – Affiliate Disclosure, About me, Keyword rich content page, and Privacy Policy Templates Or you can Create your own templates
Monitor how many of your articles have been indexed in Google
Data base of 1000's of free stock photos
Publish all content that you create within site content straight to your website
Monitor and Keep Your Hard Work Safe
The biggest downfall with building a website is one wrong click and there goes all your hard work down the drain. Rest easy with Daily Website Backups and Full Website Redundancy.
FREE Site SSL (HTTPS): Every message is encrypted to ensure a secure and private connection for your viewers; That's that green padlock that pops up  in your browser in front of the URL. That padlock lets you know you are on a secure site.
Site Protection (Spam Blocker): Spam clutters your data base, slows your site down, and wastes your time recovering real comments. Block all automated spam at the server level before it even hits your website.
Site security: equipped with layers and layers of security including hacking, malware, and bot-net attack protection.
Plenty of Room For Growth
As your website becomes established and your business begins to grow. You are going to need a platform that will allow for higher traffic and more websites. You need a platform that will grow with you.
As a premium member host a total of 50 websites on the SiteRubix  Platform. Yes a total of 50 websites. 25 on a free domain and 25 on a paid domain. You can run several multi  million dollar websites. You will not outgrow the SiteRubix website platform.
As a premium member unlock
Site Comments- Request website comments from members within the WA community; website engagement plays a key role in website ranking.
Site Feedback- Request feedback from members within the community. See what they think about  your content, images,  your website's overall direction; site feedback allows to efficiently improve your website.
Site Support- Website Technical support 24/7. Get a response within minutes.
There is only two memberships available here at Wealthy Affiliate Free or Premium. So, by all means stay a free member as long as you like. You never need any finciail information as a free member and your free membership never expires.
Once you do upgrade to a premium member 100% of absolutely everything Wealthy Affiliate has to offer is unlocked, trainings and all for less than a dollar a day.
Rather you are building a website for a full time income, extra income, or you just have something you want to share. The SiteRubix website platform is equipped with all the tools you need to build a safe and secure, yet powerful website.
Build your Free website on the SiteRubix Platform. The Best Free Website Builder in this industry!
As always,
Wishing you much success
Sierra Morgan
selflessmoney.com